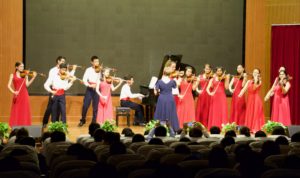 We're all familiar with the phrase, "music is a universal language," and throughout this journey those words are becoming an increasing reality. Nowhere has that sentiment become more evident than during the group's performances in China.
As a chaperone and a member of the audience, I've had the opportunity to witness first-hand the power this music is having, especially when the group performs Jasmine Flower, a traditional Chinese song. The import of this piece is palpable as ripples of excitement run through the crowd. One particular moment that sticks with me was when Mrs. Neal asked audience members to join the group in song. I watched as audience members raised their voices, singing in unison with our students; a simple song serving as a unifying bond.
It's moments like these that give me renewed hope that we can move beyond our differences and seize the simple yet unifying moment – common bonds that cross cultures and continents.
By Shannon Ross