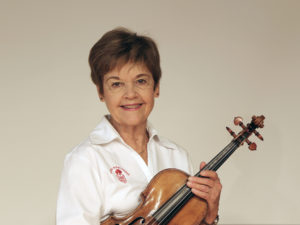 Mary Cay Neal: Founder, Executive Director, Music Director, Violin Instructor
Mary Cay Neal is the Founder and Executive Director of Buffalo Suzuki Strings, which is in its 49th year of operation.  BSS has 11 faculty members and over 250 students studying violin, viola, cello, piano classical guitar, harp and Early Childhood Music.  Mary Cay teaches violin students and conducts the BSS Friendship Touring Ensemble.  Since 1984, the Ensemble has taken their message of "World Harmony Through Music" to Holland, Switzerland, Austria, France, Germany, England, Scotland, the former Soviet Union, Hungary, Australia, Italy, Southern and Mid-Atlantic US, Chile, Peru, Ireland, Spain, Argentina and South Africa.
Mary Cay holds a Bachelor of Music Degree from Georgia State University and has done post-graduate work in Suzuki Pedagogy.  She has studied with Dr. Shinichi Suzuki on many occasions including:  Teacher Training Workshops at the International Conferences in Hawaii in 1975 and 1977; Munich, Germany in 1979; Amherst, Massachusetts in 1981; and Matsumoto, Japan in 1983. Mary Cay has taught at the International Suzuki Teacher's Conferences in Edmonton, Alberta, Canada in 1985; Adelaide, Australia in 1991; Matsumoto, Japan in 1999 and Torino, Italy in 2006.
Mary Cay is a registered Teacher Trainer and has served on The Suzuki Association of the Americas Board of Directors for three terms.  She has taught Teacher Training and violin at many Suzuki Institutes and Workshops in the United States, Canada, Europe, Australia, Japan, South America and South Africa.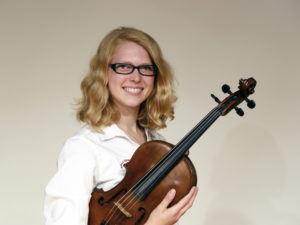 Emily Bauerlein: Violin, Viola & Early Childhood Music Education Instructor 
Emily Bauerlein started viola at the age of four at Buffalo Suzuki Strings and graduated from the program in 2011. While studying at BSS she performed with the Advanced Ensemble and went on tour with the Friendship Touring Ensemble to Italy in 2006, Spain in 2008, and Argentina in 2011. She earned a Bachelor of Arts in music and graduated Summa Cum Laude from Buffalo State College. While there, Emily studied under Kate Holzemer and Janz Costello of the Buffalo Philharmonic Orchestra and won the Young Artist Competition in 2014. Emily volunteered at BSS group classes and Summer workshop throughout her high school and college years. She has completed short term Suzuki training with Christie Felsing, Margot Jewell, and Carrie Reuning-Hummel. Emily loves teaching infants and toddlers as well, and trained in the Suzuki Early Childhood Education Prenatal and Early Years stages 1 and 2 under the instruction of Sharon Jones. The Early Childhood Education classes at Buffalo Suzuki Strings are her absolute favorite to teach, and she wholeheartedly believes that "Ability Develops Early" and that "Every Child Can Learn." In her spare time she loves to take trips to warm climates and has a love for nature.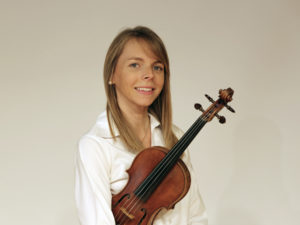 Lauren Eastlack: Assistant Executive Director, Violin Instructor
Graduate of Indiana University Jacob's School of Music, violinist, Lauren (Zang) Eastlack began her studies at the age of five at Buffalo Suzuki Strings studying with Mary Cay Neal during her final six years in the program before graduating. Lauren earned a Bachelor of Music in Violin Performance, a Masters in Music in Violin Performance, and a Performer Diploma Certificate during her time at the Jacob's School of Music. Her primary teachers were Paul Biss and Mimi Zweig.
Between 2007 and 2009, Lauren earned a position as Associate Instructor of Violin at the Jacob's School of Music. Lauren spent five years studying pre-college string pedagogy with Mimi Zweig and Brenda Brenner, Director and Assistant Director of the String Academy at Indiana University Jacob's School of Music. Lauren taught both individual and group lessons at the String Academy as well as being a teacher's assistant during the Summer String Academy for four years. Lauren is continuing to work through her Suzuki teacher training in violin with Mary Cay Neal. In 2015 Lauren participated in the stage one training for the Suzuki Early Childhood Education program in London, Ontario with Sharon and Dorothy Jones. From 2009-2012, Lauren was a full time instructor of violin at the Carolina String Academy at Ashley Hall School in Charleston, South Carolina.
During her years at BSS, Lauren went on tour with the Friendship Touring Ensemble to Chile/Peru in 1997 and England/Ireland in 2000. In 2002, Lauren was the recipient of the Amherst Symphony Orchestra Scholarship, the Buffalo Philharmonic Scholarship, and the Buffalo Chamber Society Scholarship. Lauren has performed as soloist with the Buffalo Philharmonic on two separate occasions and in the fall of 2009 performed as soloist with the Amherst Symphony Orchestra. Lauren performed with the Charleston Symphony Orchestra and the Ensemble of St. Clare Chamber Orchestra in Charleston, SC from 2009 – 2013. Lauren has been subbing with the Buffalo Philharmonic Orchestra since 2013.
Lauren lives in Clarence Center with her husband Aaron and daughter Savannah.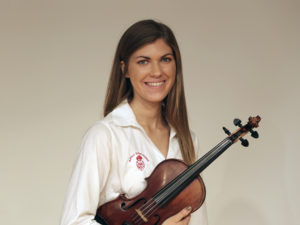 Emily Greetham: Violin Instructor
Emily Greetham graduated from Indiana University's Jacobs School of Music in May 2015 with a Bachelor of Music Education degree. She is from Buffalo, New York and started playing the violin when she was five years old. At age 7, she began her studies at Buffalo Suzuki Strings and continued there with Mary Cay Neal as her teacher during her last five years. Throughout her high school and college years, Emily had experience teaching private violin students and working with children in afterschool programs and summer camps in the Buffalo area. Additionally, she volunteered at the BSS repertory classes and summer workshops. At Indiana University, Emily studied violin with Dr. Brenda Brenner and worked for Dr. Brenner's string project, teaching violin at Fairview Elementary School. She was also involved as a helper teacher and counselor for Indiana University's String Academy. Emily taught all string instruments and orchestra during her student teaching experience at Park Tudor School in Indianapolis, Indiana. She studied Suzuki Violin Pedagogy at Indiana University and has completed Suzuki Violin Training courses with Nancy Lokken, Karen-Michele Kimmett, and Mary Cay Neal. While at BSS, Emily went on tour with the Advanced Touring Ensemble to Italy in 2006 and Spain in 2008. During college, she performed with the IU orchestras as well as the Carmel Symphony Orchestra in Indianapolis. Emily is excited to be living in Buffalo, NY again and to be teaching at BSS, which continues to impact her musically and personally.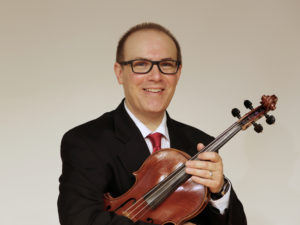 David Levine: Assistant Music Director, Violin & Viola Instructor
Currently Assistant Music Director of Buffalo Suzuki Strings, David Levine has taught violin and viola for the program since 1996. David grew up in Connecticut, and completed a B.S. in Music Education and a B.A. in Music from the University of Connecticut, as well as the M.M. in Suzuki Pedagogy from Ithaca College. He has studied violin and viola with several teachers, including Theodore Arm, Linda Case, Debra Moree, Sanford Reuning, and Almita and Roland Vamos. In addition to long-term Suzuki violin teacher training at Ithaca College with Sanford Reuning, David has also taken short-term violin training courses with Teri Einfeldt, John Kendall, Mary Cay Neal, Carrie Reuning, and Stevie Sandven, as well as many viola units with Elizabeth Stuen-Walker. David, an active clinician, has taught at Suzuki Workshops and Institutes in Illinois, Kentucky, New York, Ohio, South Dakota, Tennessee, Texas, Washington, DC, and Wisconsin as well as in Argentina, Brazil, Canada and South Africa. In addition to teaching many students, ages 3-18, through Buffalo Suzuki Strings, David is also an active freelance performer on both violin and viola in the Western New York area. David lives in Buffalo with his wife Shannon Levine, cello teacher at Buffalo Suzuki Strings, and their daughter Anna.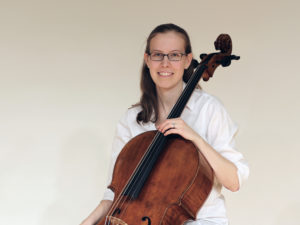 Shannon Levine: Cello Instructor
Shannon Levine has been practicing the cello since she was ten. She completed her Bachelor of Arts in Music at Gustavus Adolphus College, St. Peter, Minnesota (with a detour through the chemistry department along the way). In 2008, she earned a Master of Music degree in Cello Performance from Illinois State University in Normal, Illinois; while she was there she participated in orchestra and numerous chamber ensembles. Mrs. Levine was a group class and individual lesson teacher for Illinois State's String Project program, which provides instruction to school-age children on violin, viola, and cello, under the supervision of Master Teachers Dr. Katherine Lewis and Dr. Adriana Ransom. After graduation, Mrs. Levine stayed in central Illinois, teaching private lessons and mixed-instrument group classes. She also performed with numerous local ensembles, including the Millikin-Decatur Symphony, the Illinois Symphony, and the Peoria Symphony Orchestra.
Mrs. Levine has completed Suzuki teacher training through cello book 5 at the American Suzuki Institute, the Chicago Suzuki Institute and the Ithaca Suzuki Institute under teacher trainers Jean Dexter, Barbara Wampner, Sally Gross, Pam Devenport and Carol Tarr. Shannon lives in Buffalo with her husband and fellow faculty member David, and their daughter Anna.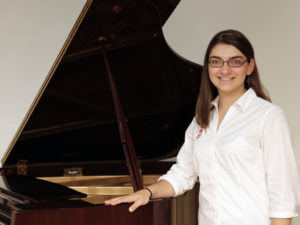 Elizabeth Ruth: Piano Instructor
Buffalo Suzuki Strings faculty, Elizabeth (Lizzie) Ruth has been studying piano since the age of 6. She graduated with a Bachelor's in Music in piano pedagogy and accompaniment from SUNY Buffalo State. During Lizzie's time there she studied with Dr. Emily Boyce, and had the opportunity to participate in Master classes with Dr. Humpherey from Eastman School of Music. Lizzie also studied accompaniment with Dr. Emily Boyce, Dr. Holy Bewlay, Ivan Docanko, and Dr. Abbie Rockwood and had the opportunity to student accompany various choirs as well as voice labs. She has also attended collaboration workshops taught by Dr. Allison d'Amato, Ivan Docanko, and Robert Strauss. Lizzie has received awards in music such as Award for Excellence in Music in 2014 and Honorary Student Award in 2016.  She has been part of the Philharmonia Orchestra as a violinist as well as accompanied in the Buffalo State Wind Ensemble and Chorals. Lizzie is currently pursuing a Master's degree in Music Education at University at Buffalo as well as a Master's in Piano Collaboration from SUNY Fredonia.
Lizzie has also complete Suzuki piano training, Every Child Can, with Susan Gagnon at the Royal Conservatory of Music in Ontario as well as completed piano books 1-3 with Suzuki Piano teacher Rita Hauck. Lizzie is looking forward to continuing her studies in Suzuki piano as well as general music education and collaboration.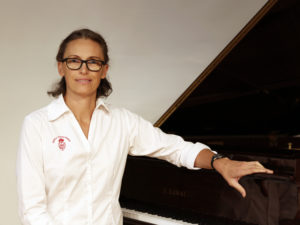 Rasa Stalygiene: Piano Instructor
Rasa Stalygiene is a graduate of the Lithuanian Music Academy in Vilnius, Lithuania, Europe. She holds Bachelor's and Master's Degrees in Piano Performance, Accompaniment, and Piano Pedagogy. During her Master studies at LMA in 1993-1995 and until coming to the United States in 2000 with her husband and two sons, Rasa taught piano and accompanied string, wind, and vocal students at the renowned Mikalojus Konstantinas Ciurlionis School of Arts and Liepaites Music School in Vilnius, where she was the head of the piano department, and the youngest member of the faculty. During that time she also toured Europe – Poland, Germany, Switzerland, Russia, Latvia, Estonia –  as a soloist, and accompanist.
Upon her arrival in the US, Rasa became fascinated by the Suzuki Method, about which she knew very little at that time. While teaching and accompanying Suzuki violin students at the Wyoming Fine Arts Center in Wyoming, Ohio, Rasa was introduced to the renowned Suzuki Teacher Trainer Rita Hauck, and thus, in 2001, her Suzuki Piano journey began.
In 2008, Rasa has completed all 7 units of Suzuki Piano Teacher Training with Rita Hauck (units 1-4) and Mary Craig Powell (units 5-7).
Rasa came to Buffalo in 2005 to take a full time position at the Buffalo Suzuki Strings, where in two years her studio had grown to 65 piano students. Rasa's two youngest children are students at BSS, studying violin and piano. She and her family resides on the beautiful Grand Island.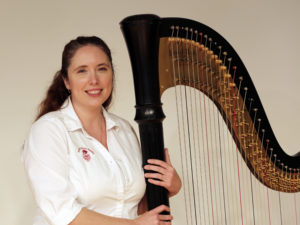 Kela Walton: Harp Instructor, Early Childhood Education Program Coordinator
Kela Walton began her musical journey at the age of five as Suzuki piano student. By the age of eleven she finally convinced her parents to let her study the harp, and it was love at first lesson. Kela Walton holds a M.M. in Harp Performance and Pedagogy from the University of Houston Moores School of Music where she studied with Paula Page, and a B.M. in Harp Performance from the University of Texas at Austin where she studied with Gayle Barrington. Additionally Kela studied upon invitation with Alice Chalifoux at the Salzedo School in Camden, Maine. Her Suzuki training includes coursework in early childhood education and harp with Sharon Jones, Delaine Leonard, and Dr. Laurie Scott.
Kela relocated to Buffalo from her native Texas in the summer of 2014. Witnessing the incredible experiences and development of children and parents in Suzuki Early Childhood Education programs in Texas and Wisconsin inspired Kela to teach Early Childhood Music classes addition to the harp at Buffalo Suzuki Strings. An enthusiastic educator, she embraces teaching with a fun and loving approach as well as a thorough understanding of the scientific evidence regarding the beneficial effects of music education on students of all ages – especially babies and young children. Kela began teaching harp lessons in 1998 and previously held faculty positions at Temple College, Round Rock Independent School District, the University of Houston Moores School of Music Preparatory and Continuing Studies Program, Longhorn Music Camp, and Blue Lake Fine Arts Camp. Kela's orchestra credits include a seven year tenure as principal harpist for the Temple Symphony Orchestra, as well as engagements with the Rochester Philharmonic Orchestra, San Antonio Symphony, Austin Symphony Orchestra, and Corpus Christi Ballet. Currently Kela is honored to serve on the National Board of Directors for the American Harp Society, Inc. When not teaching or performing, she enjoys running and practicing yoga.
Peter Zalocha: Guitar Instructor
Peter has been a student of the guitar since the age of six. He graduated with a Bachelor's Degree in Music Performance in 2003 from the University of Colorado in Boulder where he studied classical guitar with Charles Wolzien. Returning to his hometown of Buffalo, Peter received a Masters Degree in Music Performance in 2008 from the University of Buffalo where he studied with Joanne Castellani. Peter has been teaching guitar privately since 2000 with students of all ages. He works primarily with classical guitar students, however he also enjoys other genres of guitar music including Folk and Jazz among others. He began his Suzuki training in 2005 with Suzuki teacher trainers throughout the country including Mary Cay Neal, Joanne Castellani, Frank Longay, and Mary Lou Roberts. He has taken part in several Suzuki guitar festivals, seminars, and training courses. He plans to continue his Suzuki guitar training to include registration in all nine books. Peter began as an instructor at Buffalo Suzuki Strings in the summer of 2007.
ADJUNCT FACULTY
Nicholas Czaplicki
Nicholas Mark Czaplicki is a recipient a Bachelor's of Music Education Degree with a concentration in choral studies and general music from SUNY Fredonia.  Nicholas was also invited to study with the Rock n Roll Hall of Fame's Summer Teacher Institute, which is a program of how to integrate different styles of music into general studies.  He currently serves as one of the music directors for a local opera company called Opera-Lytes. In addition to music director, he is also an avid performer with them.  Nicholas has appeared in their productions of The Sorcerer (John Wellington Wells), HMS Pinafore(Captain Corcoran), She Loves Me (Georg Nowack),The Music Man (Marcellus Washburn), Patience(Lieut. Duke of Dunstable), The Pirates of Penzance(The Sergeant of Police) and Princess Ida (Arac).  Other theater credits include Godspell (Lamar), Into the Woods (Baker), Sweeney Todd (Sweeney), You're a Good Man, Charlie Brown (Charlie Brown), Bye Bye, Birdie (Mr. MacAfee). Favorite opera credits include The Old Maid and the Thief (Bob), The Magic Flute(Papageno), and L'elisir d'amore (Dulcamara). Nicholas has also worked with the Western New York Chamber Orchestra on productions including Amahl and the Night Visitors and PDQ Bach's The Abduction of Figaro.
Christopher Holmes
Christopher Holmes began the study of violin at the age of 4 with Mary Cay Neal, founder and director of the Buffalo Suzuki Strings. At age 11, he joined the Buffalo Suzuki Strings Advanced Ensemble and toured to Australia, Italy, the southern states of America, Chile and Peru. He performed as a soloist in the final two tours.
Mr. Holmes completed a bachelor's degree in violin performance at the Crane School of Music where he studied with John Lindsey and Ioan Harea. Following this, he completed a master's degree in violin performance at the University of Maryland where he studied with Dr. James Stern. Mr. Holmes then completed a master's degree in music education at the Crane School of Music.
During his time at the University of Maryland, Mr. Holmes began the study of Dr. Suzuki's teaching methods with Rhonda Cole. He continued Suzuki teacher training for books 1 through 10 with Carrie Reuning-Hummel, Edward Kreitman, Mary Cay Neal, Kimberly Meier-Sims, and Mark Bjork.
Mr. Holmes has performed extensively. He has performed as a soloist and as a section player with the Ars Nova Chamber Orchestra in Buffalo, NY under the direction of Marylouise Nanna. He was the first violinist in 11 years to win the Crane School of Music concerto competition. He has also performed in chamber ensembles in Prague at the Ameropa Chamber Festival, at the Milwaukee Chamber Music Festival, and with the Lake Effect String Quartet in Buffalo.
Mr. Holmes has been a faculty member at the Buffalo Suzuki Strings where he taught students ages 3 to 18 in group and private instruction from 2004 to 2006. He then taught in the public schools in the Rochester, NY area for three years where he was responsible for both small group instruction and orchestra lessons. Subsequently Mr. Holmes moved to Pittsburgh, PA where he was a faculty member with the Pittsburgh Music Academy.  He has been a faculty member of the Buffalo Suzuki Strings Summer Workshop since 1999.  Throughout this time, Mr. Holmes has worked as a master-class teacher, quartet coach, and orchestra director for various schools.  In 2013, Mr. Holmes founded the Rochester Suzuki Strings based in Pittsford, NY.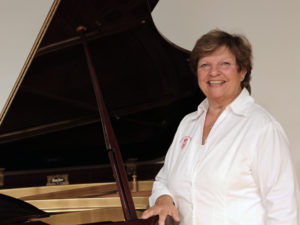 Linda Ross serves as the BSS Administrative Director and a past member of the Board of Directors. She holds a Bachelor of Science degree from Ithaca College in Music Education with a piano concentration and an Education Masters Degree (Ed.M) from SUNY at Buffalo also in music education. Prior to her retirement from public school teaching she taught for 33 years at Smallwood Elementary School in the Amherst Central School District. In addition to her administrative duties for BSS, Linda also teaches Rhythm Reading, accompanies Saturday morning classes and students recitals, and is a co-tour director for the Advanced Class Ensemble.
Shannon Ross is a 2000 graduate of Buffalo Suzuki Strings having studied with Marilynn Standard and Mary Cay Neal. She continued her violin studies at Ithaca College while attending the Ithaca College Park School of Communications. She received her Bachelor's Degree from Ithaca College with a major in Radio/TV Production in 2004. In addition to teaching violin Saturday classes for BSS, Shannon is employed as an Executive Producer at WKBW, Channel 7 TV.