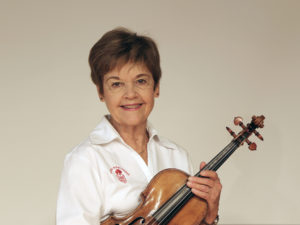 Mary Cay Neal: Founder, Executive Director, Music Director, Violin Instructor
Mary Cay Neal is the Founder and Executive Director of Buffalo Suzuki Strings, which is in its 49th year of operation.  BSS has 11 faculty members and over 250 students studying violin, viola, cello, piano classical guitar, harp and Early Childhood Music.  Mary Cay teaches violin students and conducts the BSS Friendship Touring Ensemble.  Since 1984, the Ensemble has taken their message of "World Harmony Through Music" to Holland, Switzerland, Austria, France, Germany, England, Scotland, the former Soviet Union, Hungary, Australia, Italy, Southern and Mid-Atlantic US, Chile, Peru, Ireland, Spain, Argentina and South Africa.
Mary Cay holds a Bachelor of Music Degree from Georgia State University and has done post-graduate work in Suzuki Pedagogy.  She has studied with Dr. Shinichi Suzuki on many occasions including:  Teacher Training Workshops at the International Conferences in Hawaii in 1975 and 1977; Munich, Germany in 1979; Amherst, Massachusetts in 1981; and Matsumoto, Japan in 1983. Mary Cay has taught at the International Suzuki Teacher's Conferences in Edmonton, Alberta, Canada in 1985; Adelaide, Australia in 1991; Matsumoto, Japan in 1999 and Torino, Italy in 2006.
Mary Cay is a registered Teacher Trainer and has served on The Suzuki Association of the Americas Board of Directors for three terms.  She has taught Teacher Training and violin at many Suzuki Institutes and Workshops in the United States, Canada, Europe, Australia, Japan, South America and South Africa.
Lauren Eastlack: Co-Executive Director, Violin Instructor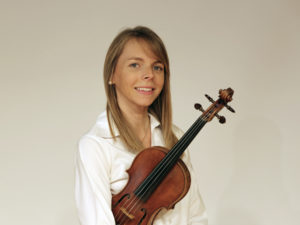 Graduate of Indiana University Jacob's School of Music, violinist, Lauren (Zang) Eastlack began her studies at the age of five at Buffalo Suzuki Strings studying with Mary Cay Neal during her final six years in the program before graduating. Lauren earned a Bachelor of Music in Violin Performance, a Masters in Music in Violin Performance, and a Performer Diploma Certificate during her time at the Jacob's School of Music. Her primary teachers were Paul Biss and Mimi Zweig.
Between 2007 and 2009, Lauren earned a position as Associate Instructor of Violin at the Jacob's School of Music. Lauren spent five years studying pre-college string pedagogy with Mimi Zweig and Brenda Brenner, Director and Assistant Director of the String Academy at Indiana University Jacob's School of Music. Lauren taught both individual and group lessons at the String Academy as well as being a teacher's assistant during the Summer String Academy for four years. Lauren is continuing to work through her Suzuki teacher training in violin with Mary Cay Neal. In 2015 Lauren participated in the stage one training for the Suzuki Early Childhood Education program in London, Ontario with Sharon and Dorothy Jones. From 2009-2012, Lauren was a full time instructor of violin at the Carolina String Academy at Ashley Hall School in Charleston, South Carolina.
During her years at BSS, Lauren went on tour with the Friendship Touring Ensemble to Chile/Peru in 1997 and England/Ireland in 2000. In 2002, Lauren was the recipient of the Amherst Symphony Orchestra Scholarship, the Buffalo Philharmonic Scholarship, and the Buffalo Chamber Society Scholarship. Lauren has performed as soloist with the Buffalo Philharmonic on two separate occasions and in the fall of 2009 performed as soloist with the Amherst Symphony Orchestra. Lauren performed with the Charleston Symphony Orchestra and the Ensemble of St. Clare Chamber Orchestra in Charleston, SC from 2009 – 2013. Lauren has been subbing with the Buffalo Philharmonic Orchestra since 2013.
Lauren resides in Clarence Center with her family.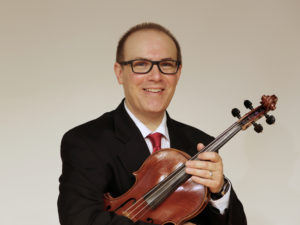 David Levine: Co-Music Director, Violin & Viola Instructor
Currently Co-Music Director of Buffalo Suzuki Strings, David Levine has taught violin and viola for the program since 1996. David grew up in Connecticut, and completed a B.S. in Music Education and a B.A. in Music from the University of Connecticut, as well as the M.M. in Suzuki Pedagogy from Ithaca College. He has studied violin and viola with several teachers, including Theodore Arm, Linda Case, Debra Moree, Sanford Reuning, and Almita and Roland Vamos. In addition to long-term Suzuki violin teacher training at Ithaca College with Sanford Reuning, David has also taken short-term violin training courses with Teri Einfeldt, John Kendall, Mary Cay Neal, Carrie Reuning, and Stevie Sandven, as well as many viola units with Elizabeth Stuen-Walker. David, an active clinician, has taught at Suzuki Workshops and Institutes in Illinois, Kentucky, New York, Ohio, South Dakota, Tennessee, Texas, Washington, DC, and Wisconsin as well as in Argentina, Brazil, Canada and South Africa. In addition to teaching many students, ages 3-18, through Buffalo Suzuki Strings, David is also an active freelance performer on both violin and viola in the Western New York area. David lives in Buffalo with his wife Shannon Levine, cello teacher at Buffalo Suzuki Strings, and their daughters Anna and Miriam.
Linda Ross: Administrative Director, Piano Instructor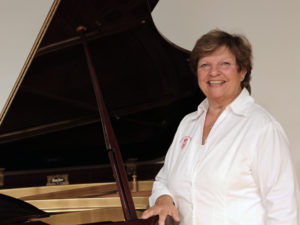 Linda Ross serves as the BSS Administrative Director and a past member of the Board of Directors. She holds a Bachelor of Science degree from Ithaca College in Music Education with a piano concentration and an Education Masters Degree (Ed.M) from SUNY at Buffalo also in music education. Prior to her retirement from public school teaching she taught for 33 years at Smallwood Elementary School in the Amherst Central School District. In addition to her administrative duties for BSS, Linda also teaches Rhythm Reading, accompanies Saturday morning classes and students recitals, and is a co-tour director for the Advanced Class Ensemble.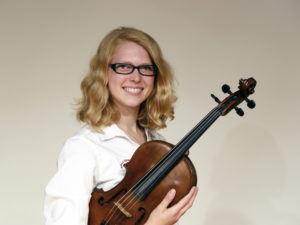 Emily Bauerlein: Violin, Viola & Suzuki Early Childhood Music Education Instructor 
Emily Bauerlein started viola at the age of four at Buffalo Suzuki Strings and graduated from the program in 2011. While studying at BSS she performed with the Advanced Ensemble and went on tour with the Friendship Touring Ensemble to Italy in 2006, Spain in 2008, and Argentina in 2011. She earned a Bachelor of Arts in music and graduated Summa Cum Laude from Buffalo State College. While there, Emily studied under Kate Holzemer and Janz Costello of the Buffalo Philharmonic Orchestra and won the Young Artist Competition in 2014. Emily volunteered at BSS group classes and Summer workshop throughout her high school and college years. She has completed short term Suzuki training with Christie Felsing, Margot Jewell, and Carrie Reuning-Hummel. Emily loves teaching infants and toddlers as well, and trained in the Suzuki Early Childhood Education Prenatal and Early Years stages 1 and 2 under the instruction of Sharon Jones. The Early Childhood Education classes at Buffalo Suzuki Strings are her absolute favorite to teach, and she wholeheartedly believes that "Ability Develops Early" and that "Every Child Can Learn." In her spare time she loves to take trips to warm climates and has a love for nature.
Katherine Berquist: Harp, Piano and Suzuki Early Childhood Education Instructor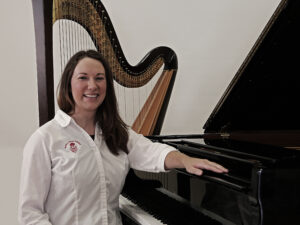 Katherine Berquist, a Western New York native, began her piano studies at the age of five and harp studies at the age of nine.  Being raised by a music teacher, Katherine heard music being played at home and attended concerts frequently so it was only natural that she would learn  to play music.  Over the years Katherine's love for the harp grew and she developed an interest in ensemble playing which she pursued, freelancing and performing with local orchestras including the Amherst Symphony Orchestra, Amherst Chamber Ensembles, and the Orchard Park Symphony. 
Katherine holds a B.A. in Music from the Crane School of Music at SUNY Potsdam, where she studied with Dr. Jessica Suchy-Pilalis.  There Katherine discovered a love for teaching through an internship with the National String Project. Katherine studied locally with Suzanne Thomas and Mario P. Falcao.  Her Suzuki Training includes Harp with Janet (Libby) Armour and Delaine Fedson Leonard, Suzuki Early Childhood Education with Sharon Jones, and Piano with Rasa Stalygiene. 
Katherine joined the faculty of Buffalo Suzuki Strings in 2018 and is currently teaching harp, piano, and Suzuki Early Childhood Education.
Anna Dusel: Violin, Viola & Suzuki Early Childhood Music Education Instructor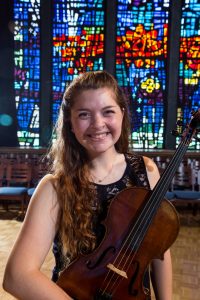 Anna Dusel has earned recognition as a significant performer and teacher both in the United States and abroad. She has participated in numerous chamber and ensemble projects, including the Shenandoah Conservatory Symphony Orchestra tour across Argentina, the recording of Espejismos by Carlo Nicolau, and the world premiere of Wynton Marsalis' Blues Symphony at the Strathmore Hall in North Bethesda, MD. Anna has performed various concerts with orchestras throughout Pennsylvania, Virginia, Maryland, Washington D.C., North Carolina, and Tennessee. She has attended nationally and internationally acclaimed summer festivals such as Brevard Summer Institute, Maine Chamber Music Seminar, and Orvieto Musica in Orvieto, Italy. Anna is also a founding member of her trio, Triple Tango. They are a sought after chamber ensemble who have performed concert tours in various venues throughout the MD/DC/NOVA area. Anna has also established herself as a solo musician through her world premiere of the work "Modular Tango" by Jorge Variego at the The Emporium Center for Arts & Culture in Knoxville TN, and performance at the 2019 International Viola Congress in Poznań, Poland. 
In addition to her extensive performing career, Anna teaches private music lessons for viola and violin. Before moving to Buffalo, Anna taught on the college level at the University of Tennessee, where she was a Graduate Teaching Assistant and a member of the Graduate String Quartet, in addition to maintaining a private studio. Anna holds a B.M. in Viola Performance summa cum laude from Shenandoah Conservatory, a Professional Performance Certificate from Pennsylvania State University, and a Master of Music degree in from the University of Tennessee, Knoxville where she studied under the tutelage of renowned performer and pedagogue, Hillary Herndon. Throughout her time in school she maintained a private teaching studio, taught for the American Independent Music Association, 1st Chair Strings, and after graduating, was on the faculty for the Knoxville Suzuki Academy in Knoxville, TN.
Anna has completed her Suzuki teacher training with James Hutchins and loves to play chamber music with others. She resides in Tonawanda with her husband and enjoys cooking, drinking coffee, and taking care of her many houseplants.
Bethany Erhardt: Cello, Piano & Suzuki Early Childhood Music Education Instructor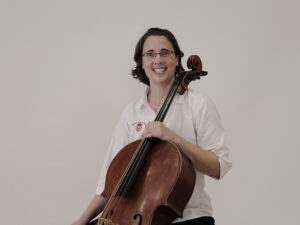 Bethany grew up in a musical home in Hong Kong, where both her parents were teachers. At age nine, after moving to Michigan, she began cello studies with Suzuki teacher-trainer Grace Field. She studied cello with Anthony Elliott at the University of Michigan School of Music and graduated with highest honors in performance. She then taught at Suzuki Royal Oak Institute of Music (Detroit, MI) and was a long-term observer in the studio of renowned pedagogue Richard Aaron. She received her Master of Music degree in performance, with secondary studies in conducting, from Western Michigan University. There she was the Haas Cello Scholar, serving as graduate teaching assistant to Bruce Uchimura in applied cello and co-principal cellist of the University Symphony Orchestra. She was a finalist in the WMU Concerto Competition.
As a chamber musician, she was a two-time fellow at The Chamber Music Institute in Lincoln, Nebraska. She has worked with members of The Merling Trio, The Chiara, Cavani, and Cleveland string quartets, and with the Ann Arbor Phoenix Ensemble. She appeared with The Creative Arts Orchestra (the University of Michigan's freely improvising ensemble) at the Ann Arbor Edgefest masterclass series.
She has completed Suzuki teacher training with Grace Field, Catherine Walker, and Dr. Shu-Yi Scott. Bethany loves reading about psychology and human development, and enjoys being outdoors with her eight nieces and nephews.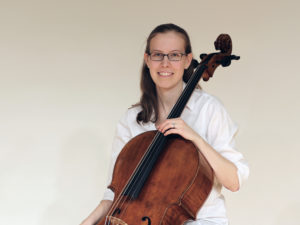 Shannon Levine: Cello Instructor
Shannon Levine has been practicing the cello since she was ten. She completed her Bachelor of Arts in Music at Gustavus Adolphus College, St. Peter, Minnesota (with a detour through the chemistry department along the way). In 2008, she earned a Master of Music degree in Cello Performance from Illinois State University in Normal, Illinois; while she was there she participated in orchestra and numerous chamber ensembles. Mrs. Levine was a group class and individual lesson teacher for Illinois State's String Project program, which provides instruction to school-age children on violin, viola, and cello, under the supervision of Master Teachers Dr. Katherine Lewis and Dr. Adriana Ransom. After graduation, Mrs. Levine stayed in central Illinois, teaching private lessons and mixed-instrument group classes. She also performed with numerous local ensembles, including the Millikin-Decatur Symphony, the Illinois Symphony, and the Peoria Symphony Orchestra.
Mrs. Levine has completed Suzuki teacher training through cello book 5 at the American Suzuki Institute, the Chicago Suzuki Institute and the Ithaca Suzuki Institute under teacher trainers Jean Dexter, Barbara Wampner, Sally Gross, Pam Devenport and Carol Tarr. Shannon lives in Buffalo with her husband and fellow faculty member David, and their daughters Anna and Miriam.
Shannon Reilly: Violin Instructor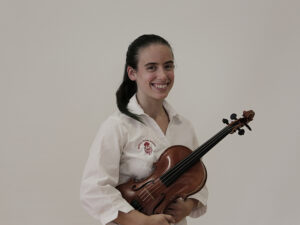 Shannon Reilly is a performing violinist and teacher who regularly performs with Liminal Space Ensemble and the Buffalo Philharmonic Orchestra in addition to her own active recital schedule as a soloist. Her recent performances include The Quartet for the End of Time for Buffalo's Friends of Vienna series, six world premieres for the Black House Collective Workshop in LA, performing in Hatch Hall for the Eastman School's EMusE faculty recital, and world premieres for the 2019, 2020, and 2023 Keybank Rochester Fringe Festival. Ms Reilly was the violin professor at the University at Buffalo (SUNY) for four years, and has performed with Ensemble Signal, the Buffalo Chamber Players, Duo Purla, and the Rochester Philharmonic Orchestra, in addition to being violinist, faculty, and concertmaster for the June in Buffalo Festival since 2019. Shannon has taught violin and viola of all levels and Introduction to Music classes, formerly for Buffalo String Works, and now for Buffalo Suzuki Strings where she received training directly from Mrs. Neal. She holds a BM and a MM in violin performance from the Eastman School of Music and has studied with Reneé Jolles, Charles Castleman, and Richard Rood of the Orpheus Chamber Orchestra. While attending Eastman, Shannon performed for Eastman's Honors chamber music twice, and performed as concertmaster for both of Eastman's students orchestras and for their Musica Nova and Ossia ensembles. Shannon lives in Amherst with her cat Molly.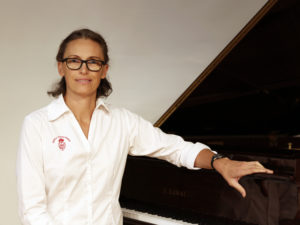 Rasa Stalygiene: Piano Instructor
Rasa Stalygiene is a graduate of the Lithuanian Music Academy in Vilnius, Lithuania, Europe. She holds Bachelor's and Master's Degrees in Piano Performance, Accompaniment, and Piano Pedagogy. During her Master studies at LMA in 1993-1995 and until coming to the United States in 2000 with her husband and two sons, Rasa taught piano and accompanied string, wind, and vocal students at the renowned Mikalojus Konstantinas Ciurlionis School of Arts and Liepaites Music School in Vilnius, where she was the head of the piano department, and the youngest member of the faculty. During that time she also toured Europe – Poland, Germany, Switzerland, Russia, Latvia, Estonia –  as a soloist, and accompanist.
Upon her arrival in the US, Rasa became fascinated by the Suzuki Method, about which she knew very little at that time. While teaching and accompanying Suzuki violin students at the Wyoming Fine Arts Center in Wyoming, Ohio, Rasa was introduced to the renowned Suzuki Teacher Trainer Rita Hauck, and thus, in 2001, her Suzuki Piano journey began.
In 2008, Rasa has completed all 7 units of Suzuki Piano Teacher Training with Rita Hauck (units 1-4) and Mary Craig Powell (units 5-7).
Rasa came to Buffalo in 2005 to take a full time position at the Buffalo Suzuki Strings, where in two years her studio had grown to 65 piano students. Rasa's two youngest children are students at BSS, studying violin and piano. She and her family resides on the beautiful Grand Island.
Grace Wong, retired principal harpist of the Rochester Philharmonic Orchestra, was second prize winner at the Fifth International Harp Contest in Israel.  A New York City native, she started playing at at the High School of Music and Art.  Undergraduate degrees and graduate degrees were earned at Oberlin Conservatory and Manhattan School of Music, respectively.  As a soloist, including a debut recital at Carnegie Recital Hall, she has appeared throughout the United States, made tours of Canada and has given a series of recitals in South America.  She toured the Fast East in 1975, made possible by a grant from the Martha Baird Rockefeller Fund for Music, and again in 1978.  In 1983, after performances in Israel, Miss Wong was invited by the Chinese Ministry of Culture to perform and give master classes at the Central (Beijing) and Shanghai Conservatories.  She has served as a jury member at the International Harp Contest in Israel and the American String Teachers Association National Solo Competition.  
Holly Zimmerman: Violin Instructor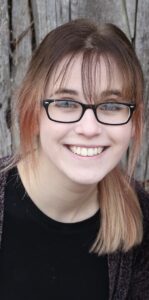 Holly Zimmerman started violin at the age of 4 in her home town of Eden, NY. During her early years of studying, she loved being part of her school's orchestra programs and Southtowns Youth Orchestra. Holly has taught privately since she was 16 and continues to be inspired by the youngest musicians. She has studied at SUNY Buffalo State under Amy Glidden as well as SUNY Fredonia with Jessica Tong, where she holds her B.A. in Music. She is a frequent member of the Western New York Chamber Orchestra as well as the Warren Philharmonic in Pennsylvania. In her free time, Holly loves reading, crocheting and spending time outside with her partner and dog.