We Are Turning 50 and are celebrating all year!
Join us as we celebrate our 50th Anniversary With TONS of fun events!
CELEBRATION EVENTS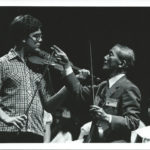 October 20th, 2018 
BSS 50th Anniversary Kick-Off and Dr. Suzuki's Birthday Celebration!
Celebration Concert Starts at 10:00 – 11:15 AM with special guest, violinist Brain Lewis
As a dynamic and engaging teacher, Mr. Lewis is committed to growing the legacies of the great pedagogues Dorothy DeLay and Dr. Shinichi Suzuki for future generations.
And… he can rap!