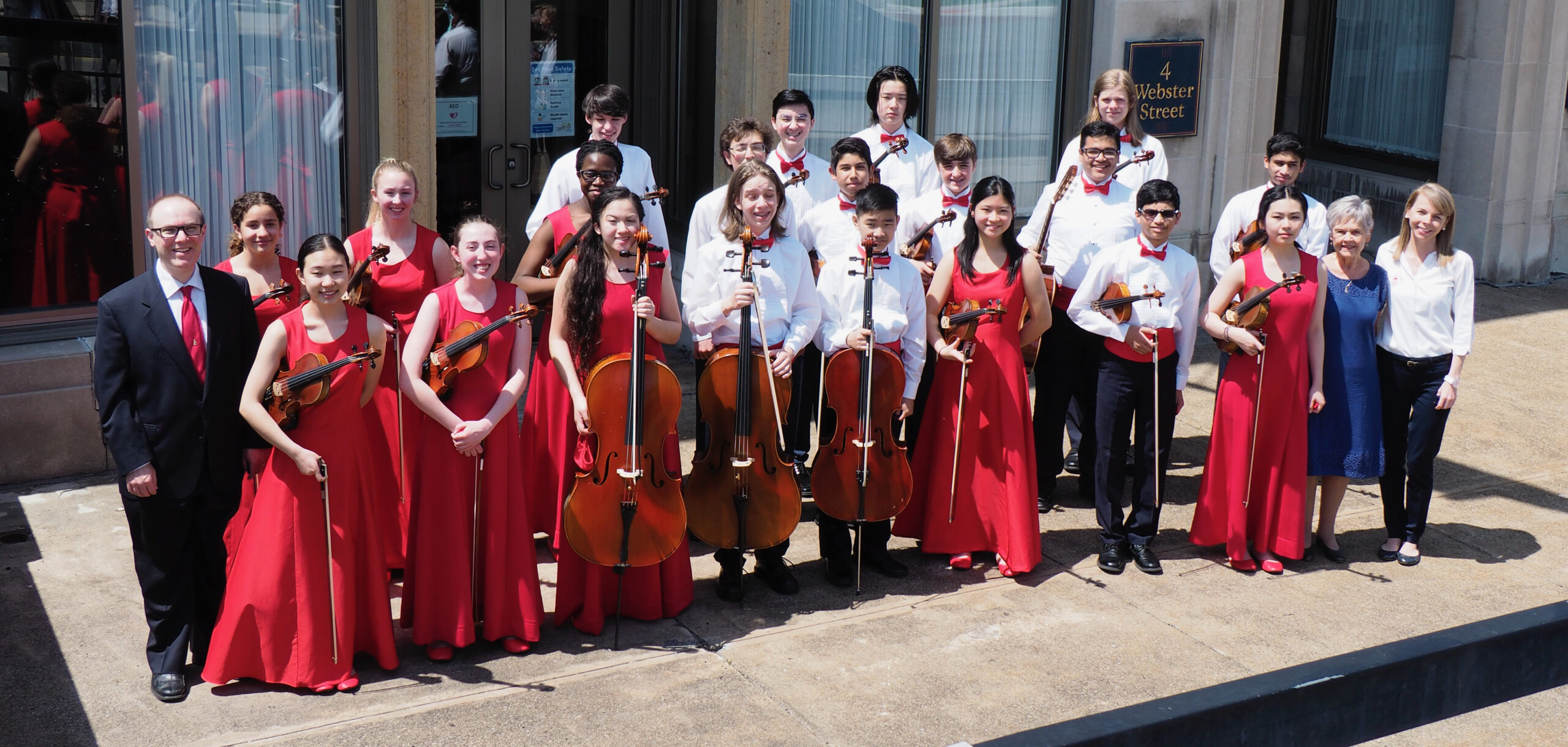 Advanced Ensemble 2023-2024
Click Here for the Advanced Ensemble Calendar 2023-2024
With a national and international reputation for excellence, the Buffalo Suzuki String Friendship Touring Ensemble has been both a model and an inspiration to other Suzuki programs in the United States and abroad since 1984. Their motto is "World Harmony Through Music".
Since first selected by Dr. Suzuki as his demonstration group for a European Workshop in 1984, BSS students (usually ages 12 to 18) have been invited performers at both Suzuki Association of the Americas Conferences and Suzuki World Conventions. In 2002 our Friendship Touring Ensemble's performance of the Bach E major Partita Prelude was selected by the Suzuki Association of the Americas to be the model for their "Every Child Can" Course training video (a required curriculum course for registered Suzuki teachers).
Generations of BSS Friendship Touring Ensemble students continue to maintain the highest levels of music performance under the direction of BSS Founder and Music Director, Mary Cay Neal. Western New York can be deservedly proud of how well these young musicians have represented their families and community on the world stage as ambassadors of musical excellence.
HISTORY OF BSS FRIENDSHIP TOURING ENSEMBLE CONCERT VENUES
2023 FRIENDSHIP TOUR TO CLEVELAND, OHIO
2018 FRIENDSHIP TOUR TO CHINA, Beijing, Changzhou and Shanghai
2015 FRIENDSHIP TOUR TO SOUTH AFRICA, Johannesburg and Cape Town

2011 FRIENDSHIP TOUR to ARGENTINA, Cordoba and Buenos Aires, Argentina
2008 FRIENDSHIP TOUR to SPAIN, Oviedo, La Fresneda, Ribadsella, Toledo and Madrid, Spain
2006 FRIENDSHIP TOUR to ITALY, Turin, Chieri and Castelfranco, Italy
2003 FRIENDSHIP TOUR to BRAZIL, Vitoria, Rio de Janeiro, Curitiba and Londrina, Brazil
2000 FRIENDSHIP TOUR to ENGLAND & IRELAND,Preston, England; Cork, Galway and Enniskerry, Ireland
1997 FRIENDSHIP TOUR to SOUTH AMERICA, Santiago, Chile; Cuzco and Lima, Peru
1995 FRIENDSHIP TOUR to SOUTH & MID-ATLANTIC STATES, Hudson, OH; Memphis,TN; New Orleans, LA; Atlanta and Gainesville, GA; Greenville, NC; Williamsburg, VA
1993 FRIENDSHIP TOUR to ITALY & SWITZERLAND,Turin, Venezia, Florence and Rome, Italy; Lugano, Switzerland
1991 FRIENDSHIP TOUR to HAWAII & AUSTRALIA, Honolulu, Hawaii; Melbourne and Adelaide, Australia
1989 FRIENDSHIP TOUR to USSR & HUNGARY,Moscow, Kalinin and Leningrad, Soviet Union; Budapest and Szombathely, Hungary
1986 FRIENDSHIP TOUR to GREAT BRITAIN,London, Durham, Preston, Wolverhampton, Ely Cathedral, England
1984 FRIENDSHIP TOUR to WESTERN EUROPE,Amsterdam, Holland; Murau and Vienna, Austria; Dortmund and Leiderdorp, Germany; Lyon, France; Zurich, Switzerland