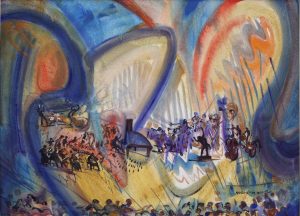 Buffalo Suzuki Strings presents, "Music On Canvas," at the historic Blair Family home, 125 Woodbridge Ave., home in North Buffalo, June 17-18. Blair sons Robert, the well-known painter, and Charles, the military aviator and husband of famed Hollywood actress Maureen O'Hara, grew up in this home.  Robert's son, Bruce, will provide 20 original watercolors from the Blair Family collection; many of the original works will be debuted at this event.  As one views vibrant art in the historic setting, beautiful music performed by some of Western New York's top young musicians from Buffalo Suzuki Strings will complete the experience.  This unique fusion of Buffalo art, music, and local history will bring together our Western New York community to enjoy a tri-cultural event.  Tickets are $25 and are available online or call (716) 834-2116.
Registration
Event: Saturday, June 17 – 11 a.m. to 5 p.m.  Sunday, June 18, 1 – 5 p.m.
This event is not handicap accessible.
Please click on a date below and you will be prompted to select a time slot.