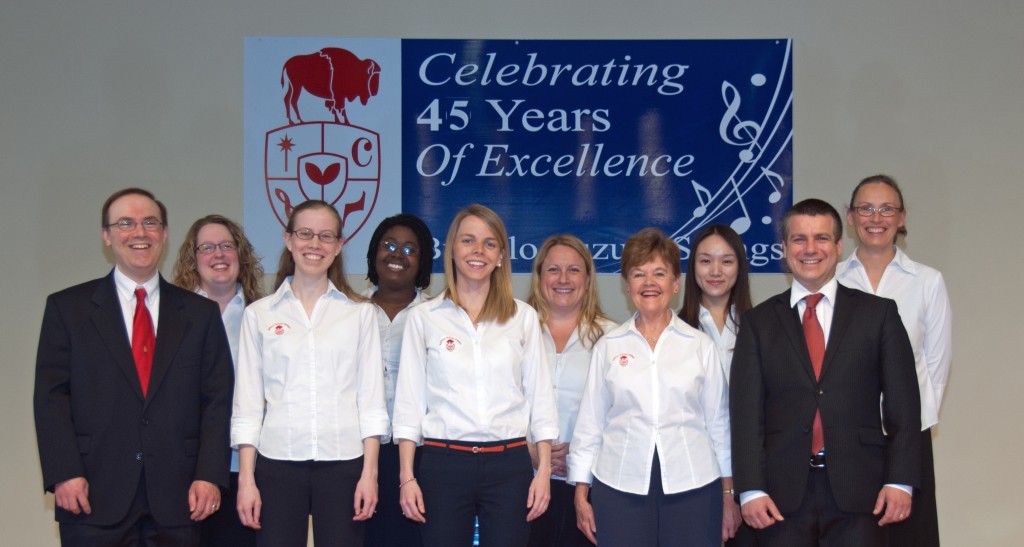 MARY CAY NEAL: Founder, Executive Director, Music Director, Violin Instructor
Mary Cay Neal is the Founder and Executive Director of Buffalo Suzuki Strings. Mary Cay teaches violin and conducts the BSS Advanced Ensemble and the Friendship Touring Ensemble. Mary Cay holds a Bachelor of Music Degree from Georgia State University and has done post-graduate work in Suzuki Pedagogy. She has studied with Dr. Shinichi Suzuki on many occasions including: teacher-training workshops at the International Conferences in Hawaii in 1975 and 1977; Munich, Germany in 1979; Amherst, Massachusetts in 1981; Matsumoto, Japan in 1983; and has taught at the International Suzuki Teacher's Conference in Edmonton, Alberta, Canada in 1985; Adelaide, Australia in 1991; Matsumoto, Japan in 1999; and Turin, Italy in 2006. Mary Cay is a registered Teacher Trainer and has served on The Suzuki Association of the Americas Board of Directors for three terms. She has taught teacher training and violin at many Suzuki Institutes and workshops in the United States, Canada, Europe, Australia, Japan and South America.
LAUREN EASTLACK: Assistant Executive Director, Violin Instructor
Graduate of Indiana University Jacob's School of Music, violinist, Lauren (Zang) Eastlack began her studies at the age of five at Buffalo Suzuki Strings studying with Mary Cay Neal during her final six years in the program before graduating.  Lauren earned her Bachelor of Music, a Masters in Music in violin performance, and a Performer Diploma Certificate during her time at the Jacob's School of Music.  Her primary teachers were Paul Biss and Mimi Zweig.  Between 2007 and 2009, Lauren earned a position as an Associate Instructor of Violin at the Jacob's School of Music. During her time at Indiana University Jacob's School of Music, Lauren spent five years studying pre-college string pedagogy with Mimi Zweig and Brenda Brenner, director and assistant director of the String Academy at Indiana University Jacob's School of Music.  Lauren taught both individual and group lessons at the String Academy as well as being a teacher's assistant during the Summer String Academy for four years.  Lauren is continuing to work through her Suzuki teacher training in violin with Mary Cay Neal. From 2009-2012, Lauren was a full time instructor of violin at the Carolina String Academy at Ashley Hall School in Charleston, South Carolina. In 2002, Lauren was the recipient of the Amherst Symphony Orchestra Scholarship, the Buffalo Philharmonic Scholarship, and the Buffalo Chamber Society Scholarship.  Lauren has performed as soloist with the Buffalo Philharmonic on two separate occasions and in the fall of 2009 performed as soloist with the Amherst Symphony.  Lauren has been performing with the Charleston Symphony Orchestra and the Ensemble of St. Clare Chamber Orchestra in Charleston, SC since 2009. Lauren and her husband, Aaron, are happy to be back home living in Buffalo. Lauren is particularly excited to be returning to Buffalo Suzuki Strings, this time working as Assistant Executive Director and as a violin teacher!
DAVID LEVINE: Assistant Music Director, Violin & Viola Instructor
Currently Assistant Music Director of Buffalo Suzuki Strings, David Levine has taught violin and viola for the program since 1996. David grew up in Connecticut, and completed a B.S. in Music Education and a B.A. in Music from the University of Connecticut, as well as the M.M. in Suzuki Pedagogy from Ithaca College. He has studied violin and viola with several teachers, including Theodore Arm, Linda Case, Debra Moree, Sanford Reuning, and Almita and Roland Vamos. In addition to long-term Suzuki violin teacher training at Ithaca College with Sanford Reuning, David has also taken short-term violin training courses with Teri Einfeldt, John Kendall, Mary Cay Neal, Carrie Reuning, and Stevie Sandven, as well as many viola units with Elizabeth Stuen-Walker. David, an active clinician, has taught at Suzuki Workshops and Institutes in Illinois, Kentucky, New York, Ohio, South Dakota, Tennessee, Texas, Washington, DC, and Wisconsin as well as in Canada, Brazil and Argentina. In addition to teaching many students, ages 3-18, through Buffalo Suzuki Strings, David is also an active freelance performer on both violin and viola in the Western New York area. David lives in Buffalo with his wife Shannon Levine, the cello teacher at Buffalo Suzuki Strings.
SHANNON LEVINE, Cello Instructor
Shannon Levine has been practicing the cello since she was ten. She completed her Bachelor of Arts in Music at Gustavus Adolphus College, St. Peter, Minnesota (with a detour through the chemistry department along the way). In 2008, she earned a Master of Music degree in Cello Performance from Illinois State University in Normal, Illinois; while she was there she participated in orchestra and numerous chamber ensembles. Mrs. Levine was a group class and individual lesson teacher for Illinois State's String Project program, which provides instruction to school-age children on violin, viola, and cello, under the supervision of Master Teachers Dr. Katherine Lewis and Dr. Adriana Ransom. After graduation, Mrs. Levine stayed in central Illinois, teaching private lessons and mixed-instrument group classes. She also performed with numerous local ensembles, including the Millikin-Decatur Symphony, the Illinois Symphony, and the Peoria Symphony Orchestra. Mrs. Levine has completed Suzuki teacher training through cello book 5 at the American Suzuki Institute, the Chicago Suzuki Institute and the Ithaca Suzuki Institute under teacher trainers Jean Dexter, Barbara Wampner, Sally Gross, Pam Devenport and Carol Tarr.
SARAH MITCHELL: Violin Instructor, Infant/Toddler Instructor
Sarah Mitchell is a Southern native, having grown up in Alabama, Tennessee and Texas. She began studying the violin at age 4½ as a Suzuki student of Dr. Michael Gattozzi at the University of Alabama. She attended Florida College in Temple Terrace, FL, and received a Bachelor of Music in Music Education Degree from Western Kentucky University, in Bowling Green, KY. She began her Suzuki violin teacher training at the University of Memphis with Kimberly Meier-Sims, earning a Master of Music in Suzuki Pedagogy. Her additional Suzuki training includes courses with Lorraine Fink, Carrie Reuning-Hummel, Carol Smith, Mark Bjork, Hiroko Driver, Joseph Kaminsky and Mary Cay Neal. In 2006, Sarah received training in Suzuki Early Childhood Education, with Dorothy and Sharon Jones. Before coming to Buffalo in 2005, Sarah helped launch the Pre-College String Program at Western Kentucky University and introduce string teaching in the Bowling Green/Warren County schools as Professional-in-Residence. She is very excited to now be a part of the collaboration and cooperative spirit at Buffalo Suzuki Strings. Oh, and yes, she loves the snow!!
KLANSEE REYNOLDS

: Violin & Viola Instructor, Infant/Toddler Instructor
Klansee Reynolds, violin/viola/Music for Infants and Toddlers, is a native of Little Rock, Arkansas, but has been living in Western New York since 2005 and a part of the Buffalo Suzuki Strings community since 2010. Before coming to BSS, Klansee taught violin, viola, and music theory at the Hochstein School of Music and Dance in Rochester, NY (2007-2011). Klansee holds a bachelor of music in violin performance from Southern Methodist University (Dallas, TX, 2004) and a master of arts in music theory from the Eastman School of Music (Rochester, NY, 2010). Along with having taken numerous pedagogy courses, Klansee has registered courses with the Suzuki Association of the Americas in prenatal and early childhood education (stage 1), Every Child Can!, Suzuki Violin School Volumes 1-3, and Suzuki Viola School Volume 4. Klansee has been teaching for almost nineteen years, including positions as lead teacher in daycare classrooms and summer camps, private and group violin/viola instructor, public school substitute teacher, undergraduate/graduate teaching assistant, and, most recently, as a registered teacher of Suzuki Early Childhood Education, Music for Infants and Toddlers, for children from birth to age 3. Klansee has performed in various chamber ensembles and orchestras around the country and the world, including the Mills String Quartet and Arkansas Symphony Orchestra. When not at BSS, you can find Klansee in the classroom teaching 3-year-olds at Colvin Brighton Child Care Center (Tonawanda). When she is not teaching, you can find Klansee reading, cooking, camping, or doing just about anything outside.
RASA STALYGIENE: Piano Instructor
Buffalo Suzuki Strings faculty since 2005, Rasa Stalygiene is a graduate of the Lithuanian Music Academy in Vilnius, Lithuania, Europe. She holds Bachelor's and Master's Degrees in piano performance, accompaniment, and piano pedagogy. Before coming to the United States, Rasa taught piano and accompanied string, wind, and vocal students. She also toured Europe as a soloist, and accompanist. Rasa has completed Suzuki Piano Teacher Training Units 1-7 with Rita Hauck and Mary Craig Powell. Currently she is a full-time Suzuki piano instructor and accompanist at Buffalo Suzuki Strings. She resides on Grand Island with her husband, Jonas, and their sons and daughter.
AMY TERRANOVA: Violin Instructor
KELA WALTON: Harp Instructor
Kela Walton began her musical journey at the age of five as Suzuki piano student. By the age of eleven she finally convinced her parents to let her study the harp, and it was love at first lesson. Kela Walton holds a M.M. in Harp Performance and Pedagogy from the University of Houston Moores School of Music where she studied with Paula Page, and a B.M. in Harp Performance from the University of Texas at Austin where she studied with Gayle Barrington. Additionally Kela was privileged to study upon invitation with Alice Chalifoux at the Salzedo School in Camden, Maine. Her Suzuki training includes coursework with Dr. Laurie Scott and Delaine Leonard.
 Kela relocated to Buffalo from her native Texas in the summer of 2014. An enthusiastic educator, she embraces teaching both lever and pedal harp to students of all ages. Kela first began teaching harp lessons in 1998 as an undergraduate student and has been harp faculty member at Temple College, Round Rock Independent School District, the University of Houston Moores School of Music Preparatory and Continuing Studies Program, Longhorn Music Camp and Blue Lake Fine Arts Camp. Kela's orchestra credits include her concerto debut with the Kingsville Symphony Orchestra, a seven year tenure as principal harpist for the Temple Symphony Orchestra, as well as engagements with the Austin Symphony Orchestra, San Antonio Symphony, and Corpus Christi Ballet. Currently Kela is honored to serve on the National Board of Directors for the American Harp Society, Inc. When not at the harp, she enjoys running and practicing yoga.
FIONA XU: Piano Instructor
Fiona Xu has been practicing the piano since she was four, and started to teach private lessons at the age of eighteen. She holds the certificate for the highest level of piano performance in China and was a piano salon consultant as a college student there. After moving to the United States, Fiona studied with Juilliard Professor Alan Feinberg, and received her bachelor's degree in Piano Performance and Art History from the University at Buffalo. Fiona received her Suzuki piano training from Mary Craig Powell and has been teaching at Buffalo Suzuki Strings since the fall of 2011.
PETER ZALOCHA: Guitar Instructor
Peter has been a student of the guitar since the age of six. He graduated with a Bachelor's Degree in Music Performance in 2003 from the University of Colorado in Boulder where he studied classical guitar with Charles Wolzien. Returning to his hometown of Buffalo, Peter received a Masters Degree in Music Performance in 2008 from the University of Buffalo where he studied with Joanne Castellani. Peter has been teaching guitar privately since 2000 with students of all ages. He works primarily with classical guitar students, however he also enjoys other genres of guitar music including Folk and Jazz among others. He began his Suzuki training in 2005 with Suzuki teacher trainers throughout the country including Mary Cay Neal, Joanne Castellani, Frank Longay, and Mary Lou Roberts. He has taken part in several Suzuki guitar festivals, seminars, and training courses. He plans to continue his Suzuki guitar training to include registration in all nine books. Peter began as an instructor at Buffalo Suzuki Strings in the summer of 2007.
ADJUNCT FACULTY
KAREN ROBINSON teaches Elementary General Music in the Cheektowaga Central School District. She received her Bachelor of Music Degree from Westminster Choir College in Princeton, NJ, her Master of Science Degree from Buffalo State College with specialization in Multi-Disciplinary Arts and her American Orff-Schulwerk Certification from Memphis State University. She is a member of ECMEA and has participated in the All-County Festivals. She is also a member of the Western New York Orff-Schulwerk Association (WYNOSA), having served as a member of its Board and Past-President, as well as the National Orff-Schulwerk Association. She has been as an Orff-Schulwerk clinician for the ECMEA Conference Day and for many other colleges and organizations. Karen was the 2013 recipient of the BPO and ECMEA Award for Excellence in Music Education. In addition to her public school teaching, Karen also teaches children's classes in Orff-Schulwerk for BSS as part of the Saturday morning program.
LINDA ROSS serves as the BSS Administrative Director and member of the Board of Directors. She holds a Bachelor of Science degree from Ithaca College in Music Education with a piano concentration and an Education Masters Degree (Ed.M) from SUNY at Buffalo also in music education. Prior to her retirement from public school teaching she taught for 33 years at Smallwood Elementary School in the Amherst Central School District. In addition to her administrative duties for BSS, Linda also teaches Rhythm Reading, accompanies Saturday morning classes and students recitals, and is a co-tour director for the Advanced Class Ensemble.
SHANNON ROSS is a 2000 graduate of Buffalo Suzuki Strings having studied with Marilynn Standard and Mary Cay Neal. She continued her violin studies at Ithaca College while attending the Ithaca College Park School of Communications. She received her Bachelor's Degree from Ithaca College with a major in Radio/TV Production in 2004. In addition to teaching violin Saturday classes for BSS, Shannon is employed as a news producer at WIVB, Channel 4 in Buffalo.